Designating an area in your home as an goal station is important for fostering family unity. It makes a huge difference when you have a visual perspective of your family's homeschool plans, goals, and outputs because it helps you to be more productive as well as accountable. This is why having a homeschool vision board is important, not just to organize your thoughts, but also to encourage you to stay on track. When your homeschool vision board looks appealing to the eyes, you will be encouraged to work more on your projects. If you currently have a plain one, it's easy to decorate it even with just a few items on hand.
Here are 4 tips for decorating your homeschool vision board
Gather your essentials
When it comes to decorating, you should have basic items for decorating. Forget the fancy decorations for now and get the items that you need first. Scissors, pins, paint, wood glue, and whatnots are items you should get first because these are the things that will get you started with decorating your billboard. After you have those, you can proceed to the items to bling it out. You can jazz it up with bulletin board borders and loads of other items. Make sure to measure it so you get the right size. Nothing worse than finding the perfect decorations only to discover after purchasing that they won't work. Having a reward for finishing the plan is a great visual to have on the board.
Make a plan before you start
Make a definite plan on what you are trying to achieve in your vision board. This way, you will know exactly how to decorate it and use the right materials. It can be overwhelming when you don't have a proper plan and it will be hard to finish. Making a plan will help give you a direction on where to start, how to do it properly and how to know you're finished. So before anything else, sit down and jot down what you want to achieve for your vision board.
Paint it with the colors you like.
The easiest way to design and decorate a vision board is by painting it. Just find the colors you like and paint it on your board. You can either play with different colors or simply choose one. When you paint your board, make sure that the paint you are choosing is suitable for the material of your board. There are some paints that are not compatible on some surfaces so make sure to research on that first.
Use fabric to decorate your vision board.
Another easy way to decorate your vision board is through the use of fabric. It can be a new one or spare fabrics from old clothes and curtains. Choose a fabric design that looks nice like patterns or stripes and cover your board with it. For example, if you have a board made of cork tiles, using a piece of fabric can greatly help in making it look better. Just cover it like you are wrapping a gift. It's easy and does not require too much money and time on your part.
Now you're ready to put your goals and visions on it. Grab some magazines or take some pics of your curriculum. Put them on it with the date you want to finish. Add some pics of field trips you hope to take or extra curricular activities you hope to do. Just like that, you have a visual reminder of what you want your upcoming school year to become!
A new homeschool year is right around the corner!
Many homeschool moms are busy preparing and finalizing curriculum choices for the upcoming school year. And some homeschoolers are trucking on through the summer months as one school year flows into the next. Whatever camp you are in, you're bound to need new homeschool curriculum, and winning a gift card to a major online homeschool retailer would surely help you check some things off of your curriculum wish list.
I'm teaming up with some other great homeschool bloggers to bring you a HUGE gift card giveaway to Rainbow Resource Center. We will be blessing TWO homeschool families with a $250 for you to use on curriculum, books, games, puzzles, or whatever educational supplies you might need!
We know homeschooling can put a financial strain on families – whether it's from living on one-income or buying curriculum for multiple children – the financial aspect of it can be stressful. Our hope is that we can bless a couple of homeschool families (although we wish we could bless many more) so they can buy the curriculum and supplies they need.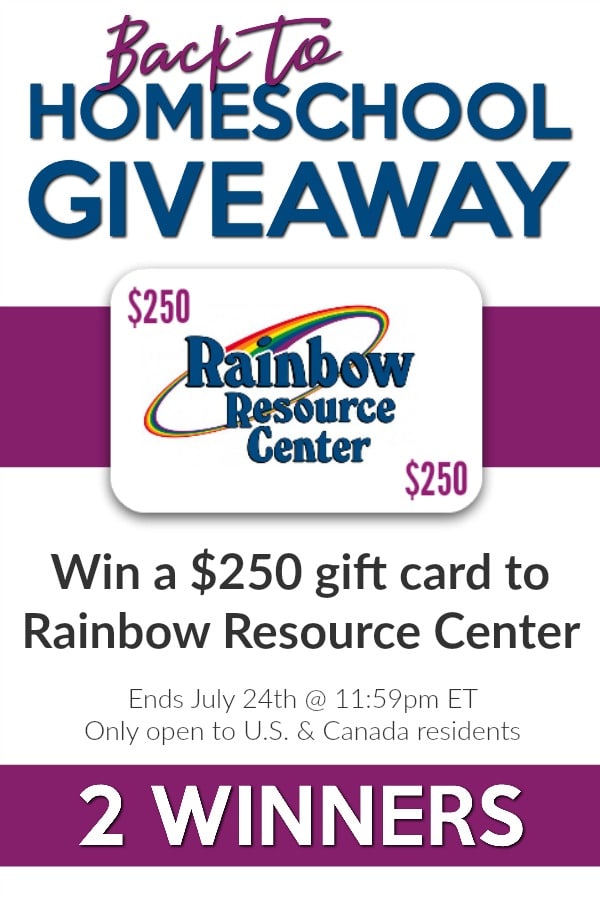 To enter for your chance to win, simply use the Rafflecopter form below to enter. Now I know that is quite a few entries for you, but each of these bloggers has generously chipped in their own money to make this giveaway possible, so I hope you will take the time to do all of the entries. And hey, the more entries you do, the better your odds are of winning!
Giveaway ends July 24, 2019 at 11:59pm ET. Must be at least 18 years of age. Must be a resident of U.S. or Canada to enter. Selected winners will have 48 hours to respond to email notification to claim their prizes or another winner will be drawn. By entering this giveaway, you agree to be added to the email lists of the participating bloggers (see the Terms & Conditions on the Rafflecopter form for the complete list).
a Rafflecopter giveaway